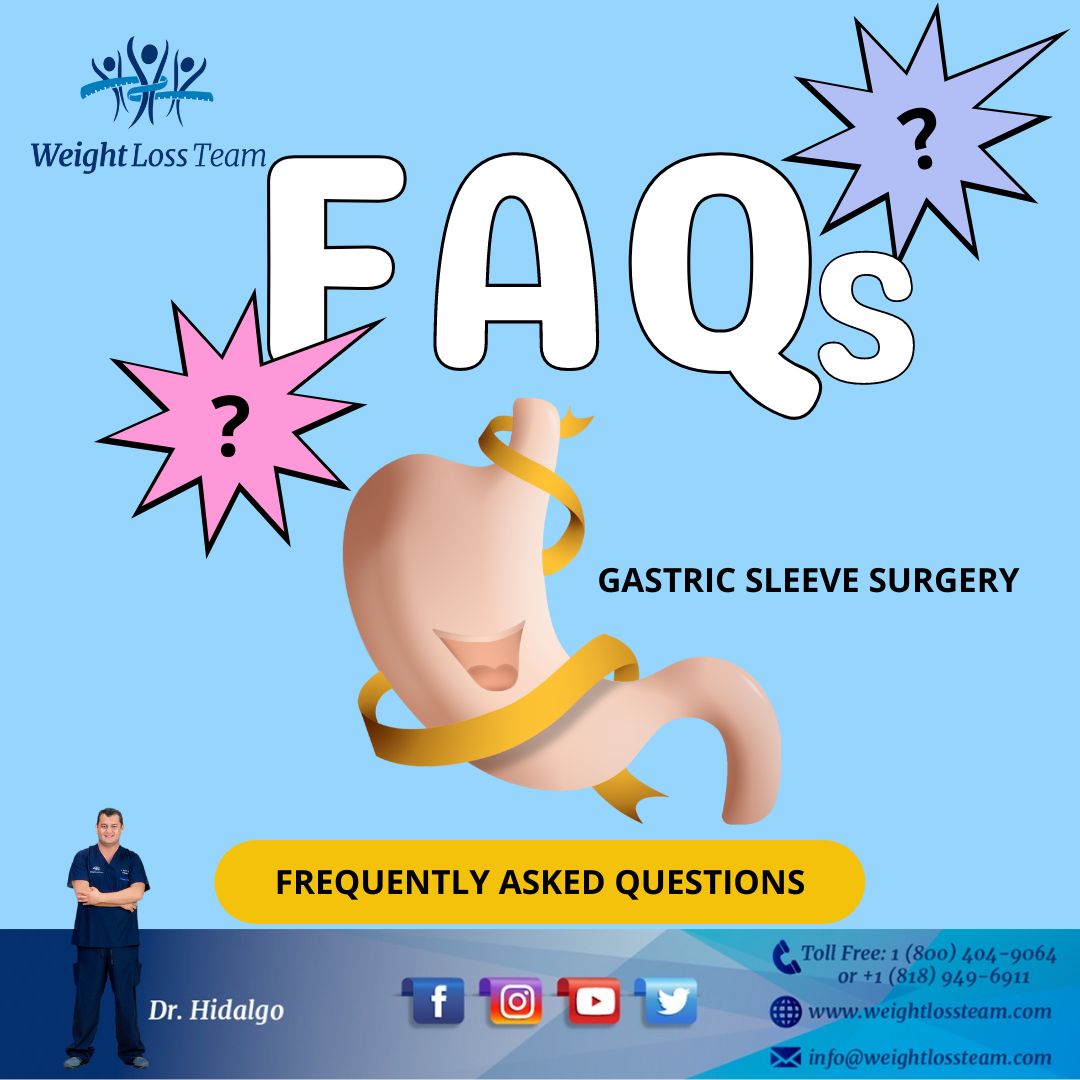 Weight Loss Surgery is one of the best method for treating obesity and its comorbidities if the patient has a body mass index (BMI) over 30. There are different types of bariatric or weight loss surgery. All of these surgeries affect the digestive system in one way or another. So, before proceeding, it is important to understand how the operations works and what to expect. The Gastric Sleeve surgery is one of the most popular surgeries at the moment for weight loss and many people are travelling to Mexico for their weight loss surgery. Patients have many questions with regards to the gastric sleeve surgery and the following are the most commonly asked questions and answers regarding Gastric Sleeve surgery:
Is the Gastric Sleeve Surgery worth it?
Among all the benefits, with Gastric Sleeve Surgery, many patients have experienced a great improvement in overall health and weight-related conditions such as reductions or reversals in high blood pressure, type 2 diabetes, arthritis, sleep apnea among others, being all this a major reduction in overall mortality risk. This procedure obviously is worth it!
Is Gastric Sleeve safe long term?
The key to long-term success after Gastric Sleeve Surgery is the Patient`s commitment to changing their old habits.Gastric Sleeve Surgery can help get patients on the path to good health when other efforts have failed; however, it is not a magical solution, it requires that the patient complete behavioral changes and an overachieving attitude. After the weight loss procedure, patient's life success will be their daily changes which must be permanent for long term success.
Do I qualify for Gastric Sleeve Surgery?
The following are the most important aspects to quality for a Gastric Sleeve Surgery:
- BMI (Body Mass Index) is among the key factors or requirements to having a gastric sleeve surgery. Patients should have a BMI of 30 or more to be considered for gastric sleeve surgery unless there are some outstanding circumstances that would allow them to have the surgery with a slightly lower BMI than 30. Typically most patients choose to have the gastric sleeve if they have to lose between 60 and 100 pounds to lose.
- The inability to achieve a healthy weight loss sustained for a period of time with prior weight loss efforts
- Patients who suffer serious diseases related to obesity such as diabetes, hypertension, sleep apnea or other respiratory disorders, heart disease, etc.
- Being committed to long-term life changes
- Being able to handle the physical stress of the procedure
- Knowing that surgery is a tool not a magic pill
- Being aware of the risks of the surgery
- Begin between 19 to 70 years of age.
Can you gain weight back after Gastric Sleeve?
Right after the Gastric Sleeve Surgery, most patients are able to lose weight initially due to the mechanics of the procedure itself even without following fully all the changes they and dietary restrictions they need to make. However, long term success involves lifestyle changes recommended by their surgeon, including strict alterations to patient's diet and daily routines. Obviously, as the time goes by active weight loss will slow and their body will adjust to the portion sizes which will become a little larger over time.As such, over time usually after about a year and a half, the body begins a maintenance phase, patient must keep on with the healthy diet, exercise and lifestyle changes; otherwise, their weight loss success won't last.
What is the average weight loss after a Gastric Sleeve surgery?
A Gastric Sleeve Surgery is considered a 'success' when patients lose 70% or more of their excess body weight and maintain that level for at least five years. However, successful results are determined by the patient, by their perceived improvement in quality of life; that is, their success could be measured in terms of big changes with regards to their health conditions or renewed ability to enjoy and participate in life more fully and happily.
How painful is the Gastric Sleeve Surgery?
Patients must know that before their procedure, they will be put under anesthesia, so they will not feel any pain during the surgery. After that, they may feel different levels of pain but usually most patients experience a pain level of 3 or less after a gastric sleeve surgery.
What is the recovery time for Gastric Sleeve Surgery?
The recovery time for Gastric Sleeve surgery is minimal, 1 or 2 nights in the hospital as this procedure is performed via the laparoscopic (small keyhole entry points) technique, which means the surgeon makes just 4-5 very small incisions to perform the surgery. Patients will typically get back to normal physical activities within 3 to 4 weeks.
How much does it cost to have Gastric Sleeve in Mexico?
The average cost of Gastric Sleeve Surgery in Mexico is about 70% lower than that of in the US; even after adding the travelling expenses such as flight and hotel.For example, in Puerto Vallarta with Weight Loss Team, the bariatric surgery center at the CMQ Riviera Nayarit Hospital, the cost of the gastric sleeve surgery is about $4200usd.So, most people end up saving almost 40 to 60 percent with the lower cost of Weight Lost Surgery in Mexico.
How much weight can I loose after Gastric Sleeve Surgery?
It is probably easier to calculate a patients expected weight loss assuming that they will follow the after-surgery guidelines from their surgeon, but actually, weight loss after Gastric Sleeve is different for every patient. On average most patients lose between 60 and 80% of their excess weight after the Gastric Sleeve procedure. Patients lose weight because they feel full from smaller portions, eat less and have a significantly decreased feeling of hunger. The patient should go on a special diet to help achieve these results, but it is a diet that is made easier based on the fact that the surgery as a tool, helps the patient succeed.Obviously, the above percentages are averages and will vary depending on the efforts applies by each patient.
Can I drink alcohol after Gastric Sleeve?
Patient must know that they should not drink alcohol right away after surgery. They must avoid alcohol for at least the first six months after their Gastric Sleeve procedure, if not longer. Patients must talk to their surgeon to be allowed to drink small amounts of alcohol in moderation according to their case. Alcohol will shut down weight loss, Dr. Hidalgo in Puerto Vallarta for example does not recommend the patient drink any alcohol until they achieve their weight loss goals.
Do I have to take vitamins and minerals after Gastric Sleeve surgery?
It is essential that Weight Loss Surgery patients understand how important and crucial it is to consume vitamins and minerals after their surgery for the rest of their life. When people lose weight, mood, energy and focus can suffer from a lack of proper vitamins. Eating habits will also prevent the patient from getting in the full daily recommended vitamins from the food they eat.As such it is important to take a good quality bariatric multivitamin in the weight loss phase and then a traditional multivitamin long term to supplement the vitamins they are not getting each day.Blood test will be required every three months for the first few years, to check on your health and proper nutrition. Weight Loss patients need to consider three important things: water intake, micronutrients and macronutrients for overall success.
---
For more information regarding Clinics/ Hospitals and Weight Loss Options mentioned in this article:
Weight Loss Team – Bariatric Surgical Center at the CMQ Riviera Nayarit Hospital led by Dr. Juan F. Hidalgo
Website: www.weightlossteam.com/
Email: info@weightlossteam.com
Telephone: Toll free 1(800) 404-9064 or + 1(818) 949-6911
Related to This